These biscuits are light, flaky and full of cheesy goodness.  It is our family's favorite "soup bread". Someday, when I get my sourdough starter "restarted", I shall post the sourdough version I came up with. It was delightful!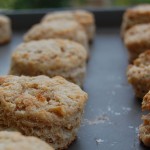 HEAT oven to 450ºF.
MIX first 5 ingredients in medium bowl. Cut in butter with pastry blender or 2 knives until mixture resembles coarse crumbs. Stir in Cheddar. Add milk; stir until mixture forms soft dough.
PLACE on lightly floured surface; knead 8 to 10 times or until smooth. Pat out dough into 6-inch square. Cut into 9 squares; place, 2 inches apart, on baking sheet.
BAKE 10 to 12 min. or until golden brown.